Lower Road, Milton Malsor - Consultation

We are proposing up to 65 affordable and market homes on land to the east of Lower Road in Milton Malsor. A letter was sent to the Parish Council in March 2020 outlining the proposals and how we are seeking to respond to the key issues and aspirations of the village.
The key elements of our proposed vision are:
New Homes - facilitate up to 65 family and affordable homes as part of an attractive village gateway proposal which delivers a design-led sustainable development of new homes of varying sizes, types and tenures that is in keeping with the current character of the village and respecting local vernacular with stone and brick.
Affordable Homes - up to 33 affordable homes (50%) for local people and those in need with negotiable tenure split (discounted market and social rented dwellings or smaller starter homes) for those who are first time buyers, on lower wages or older people wishing to downsize;
Traffic Calming – a new traffic calming road pinch point on Lower Road to help slow traffic entering and leaving the village, to include a safe pedestrian crossing on Lower Road;
Woodland Planting and Orchard - new substantial tree planting, whilst retaining existing hedgerows and trees, providing an enhanced green gateway approach into village and mimicking the character of the conservation area to help preserve the setting and identity of Milton Malsor;
Improved Towcester Road/Lower Road Junction – proposed red bar and slow road markings on the junction approach with appropriate signage to improve safety of road users entering and leaving the village;
Open Spaces – a significant large green open space area to be managed long-term with wildflower grassland and new ecological habitats brought into public access, and development set-back to maintain a soft edge;
Bus stop Upgrade – new bus stop shelter, seating and raised kerb for improved bus accessibility;
Community Green – a central community green within the development with green 'fingers' at key locations 'reaching into' the development.
Service Infrastructure – ensuring the development does not create any issues with foul and water drainage and, if so, working with utility providers to ensure appropriate upgrades are made before any development starts;
Education – providing financial contributions to local schools to support improving education and upgrading buildings, in cooperation with the Education Board;
Community Infrastructure Levy - national policy sets out that Parish Councils can receive up to 25% of Community Infrastructure Levy (CIL) payments. The indicative figure likely to arise from this development would be £150k.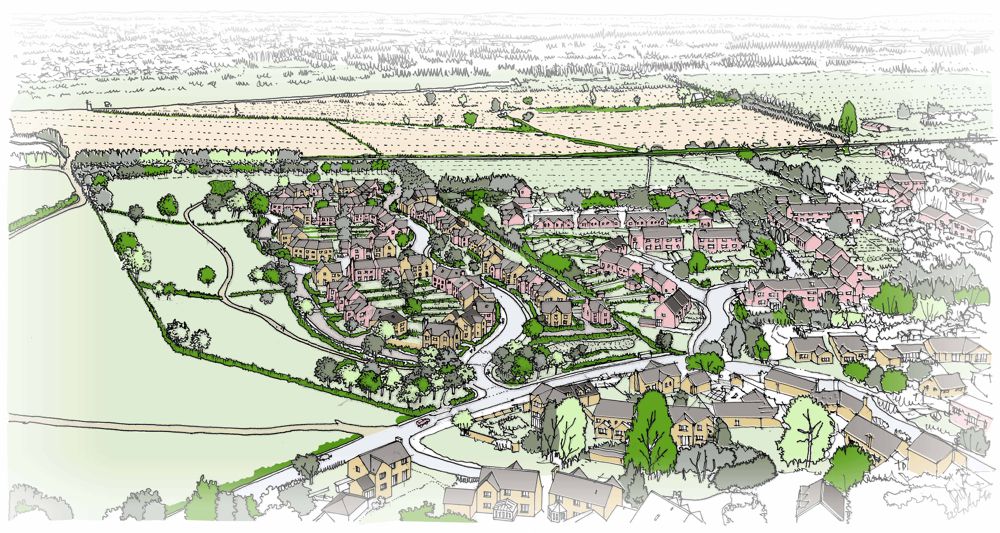 We are inviting comments to the proposals which can be emailed to: consultation@hsland.co.uk. Comments are accepted up to 24th April, but will also be welcomed after that date.